FACES OF GRANT
ANTON LUNG
CLASS OF 2020
#GRANTYOURSELFAFUTURE
BY: MR. DORSEY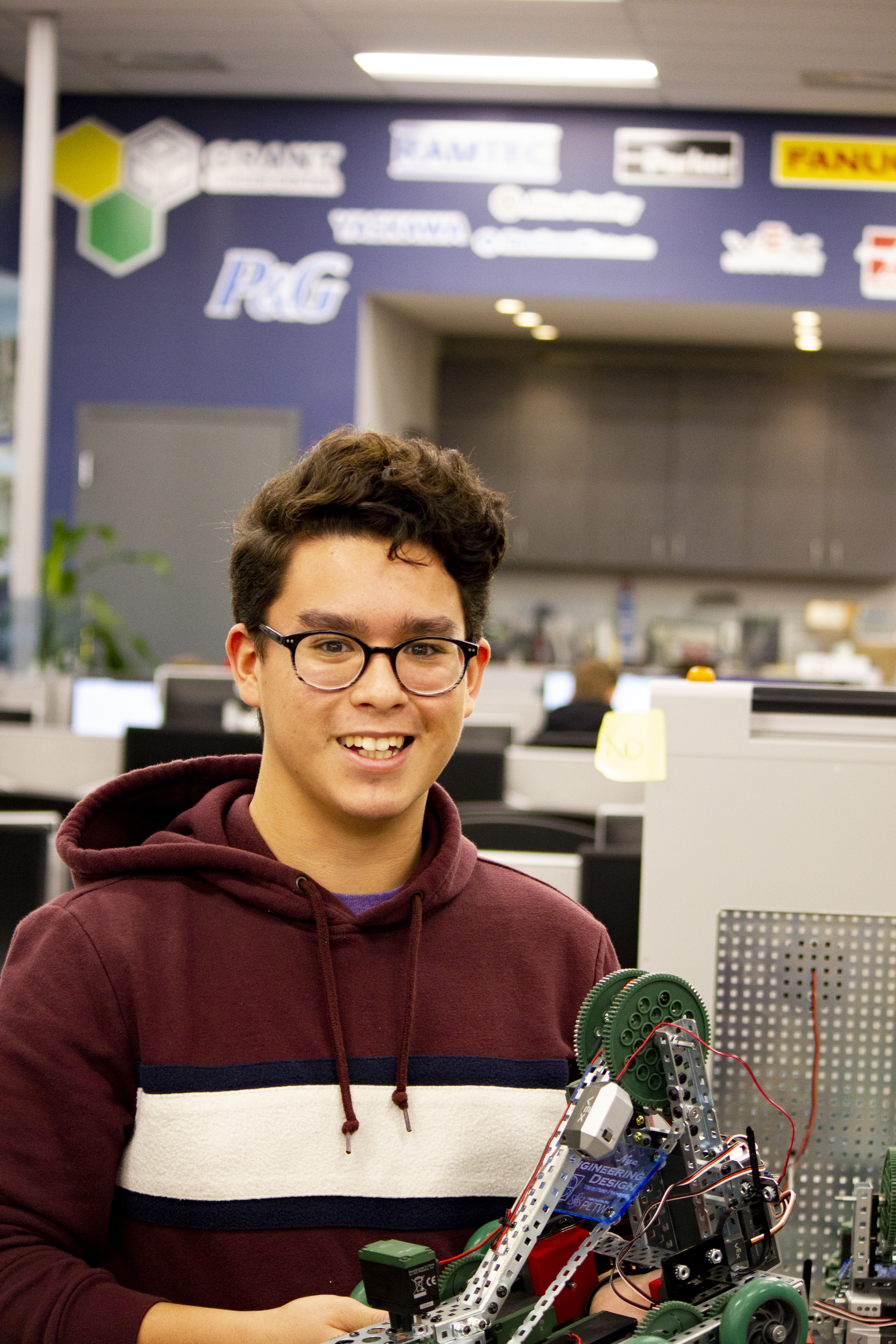 I would like to introduce you to that shy, reserved kid, the kid that didn't have a ton of friends, the kid who sat in the corner in freshman English class, hoping not to get called on. Today, that kid no longer exists. I would like to introduce to you a school leader, an active learner, a role model, and a motivator. I would like to introduce to you Engineer Design Senior, Anton Lung. Here is his story ….
Mr. Dorsey: When was the first time you visited Grant Career Center?
Anton: I attended an 8th grade summer camp and was with IT and with Engineering. We did an egg drop and a computer deconstruction activity. Originally, I really wanted to go into IT. That was when the engineering lab was still in the main building; they didn't have all of these CNC machines and the shop and everything. When I came and visited my sophomore year, I really wanted to go into IT as I had recently built my own computer. Then I found engineering when they built the new RAM Tech lab. It really urged me to join this program, they had so many new machines and I saw the training that they could provide me with. This really made me want to come here to Grant.
Mr. Dorsey: What did your parents think about you wanting to attend Grant Career Center?
Anton: My home schooI is Felicity, where I lived for my entire life, and then when I was a sophomore we had moved to Williamsburg, I didn't want to change schools. It's kind of awkward changing districts during high school. I made a compromise with my parents so they didn't have to drive me as far my junior year, since I really wanted to attend Grant and be in the Engineering Program. My parents were really supportive of me coming here and exploring the career fields that I was interested in.
Mr. Dorsey: Let's talk about academics…
Anton: Well I have always been like a very good student, but I wasn't very outgoing. I really just focused on academics in my freshman and sophomore years. I didn't really do anything outside of school like sports, I would just go to school and come home and that really changed when I came to Grant. I wanted to be more involved at Grant. Then I saw at Grant where they have more opportunities and events to attend here, to be involved in my school and community. I like being more involved with my lab and coming to the Car shows that was held on campus, which was awesome. I was able to take pictures and have them be featured on the Grant website. It's sad to say, but if you would have seen me my freshman year it was bad. I was really awkward. I am awkward now, but then I was a sheltered person and I didn't have many friends. Coming to Grant really changed me; I told myself that I really need to change and be more outgoing. If I just sit there in the corner, no opportunities are going to come out of that. Grant has really changed who I am for the better and has helped me grow as a more well-rounded individual.
"Anton is an excellent student and is very willing to learn new things. He is amazing at creating and delivering presentations despite his shyness prior to coming to Grant. I have enjoyed getting to know him and having him in class for both his junior and senior years and know that he will be an asset wherever he ends up in life after graduation!" - Emily Cadwallader, Goverment/Sociology Teacher
Mr. Dorsey: Lets talk about SkillsUSA.
Anton: So my first thought of SkillsUSA was that it was a great opportunity to get out more and be more outgoing by being involved in extracurricular activities. When they were talking at a SkillsUSA meeting about being a voting delegate , I decided to sign up for it. I was really trying to push myself out of my shell and went through the interview process, and was selected as a voting delegate. I went to Fall Conference which was a professional development conference for High-School students, which for me was one of the first times that I was out of my social circle and being around a group of kids from outside my community. Felicity is a small school district, and meeting kids from all over Ohio was very eye-opening.
Mr. Dorsey: Do you like being part of SkillsUSA?
Anton: I really love it! They offer a lot. How I explain it when giving tours for ambassadors is that Grant gives you the technical skills and everything you need to complete a job, but with only 7 hours in a school day, half academics and half lab, they don't always have time to work on professional development. That is really important when going into the workforce. So, going into a job interview, if you're not trained in it, and are the best welder in the world, but don't have the skills to talk to your boss and actually communicate, you're not going to get the job. You just can't sell yourself or your skillset if you are an inefficient communicator. I feel SkillsUSA filled that gap for me. Through being an officer I am trying to inspire people and let them know that SkillsUSA is not just about competitions, it gives you opportunities for jobs and careers.
Mr. Dorsey: Let's talk about being an ambassador.
Anton: I found out about being an ambassador very last minute. I was in Ms. C's class and they announced who the ambassadors were, and they called my name. I stood up and was like what, I didn't even know about that. So, the year before I was really comfortable giving tours, I always felt like that I wanted to show off the school, cause it is really an awesome school and I want people to know about it. Grant is a great alternative to a normal High-school.
Mr. Dorsey: What sets Grant Career Center apart?
Anton: The hands-on learning, you just don't earn a diploma. Here you earn credentials and certifications, and it is a smaller school. Other career centers in the state, they are huge-they have multiple locations, they have 30 people in a classroom, where they have like 15 or 20 students. There are fewer teachers that you need to know, here you know everyone. I was at Fall Conference for SkillsUSA and a lot of students talked about how their school uses SkillsUSA to get students out of technical classrooms and groupings and to interact with other students from other programs. Here at Grant everyone is friends with each other, we have classes with other programs, there aren't any rivalries. At other tech schools, you can really get that.
Mr. Dorsey: What do you tell students when you are giving them tours?
Anton: Essentially I tell them, this is a good school. I am not trying to downplay their school. This is not just a tech school, this is a community, where the teachers really care about you. That is another thing about Grant Career Center, I feel the teachers here are really a step above other schools. Every teacher that I have had a Grant has been a phenomenal teacher. There aren't bad teachers here. I have only been here two years, but you really build a bond with those teachers.
Mr. Dorsey: How do your parents feel about Grant now?
Anton: My parents are really happy that I am getting out more. They really support me, and they really like that Grant gives me lots of opportunities without having to go to college.
Mr. Dorsey: What is next for you?
Anton: Well, I am planning on attending the UC program that is anticipated on campus. Right now I am working with Milacron to get a shadow day. I would really like to become an intern there. They have a full compensation package with tuition when working for them, and then they would pay for my schooling. This is my goal. So, this is another reason I am trying to be more outgoing-seeing other students getting those opportunities. Those students aren't just sitting around waiting for opportunities to come to them, they are actively seeking those out and so am I.
Another thing I like about Grant is that it is like a workplace where I have a professional relationship with my teachers and lab instructors. You can actually get work done without constantly being corrected or told, "You can't say or do that". The main thing is to remain professional and realize we are here to learn and that is refreshing.
Grant Career Center is extremely proud of Anton and his personal and professional accomplishments. We are so excited to see where his confidence and love of engineering take him!