EDIT MAIN
Overview
The Auto Collision Repair program is a National Automotive Technical Educational Foundation (NATEF) certified program taught by master certified Automotive Service Excellence (ASE) instructors. Program students participate in the Automotive Youth Educational System (AYES), an intern partnership among manufacturers, local dealerships, independent repair shops, and automotive parts and paint sales facilities. The program curriculum is the Inter-Industry Conference on Auto Collision Repair (I-CAR) Professional Development Program-Educational Edition (PDP-EE). We include additional instruction in custom paint and airbrush techniques.
Articulations
Owens Community College
Certifications/Credentials
Program of StudyI-CAR Pro-level 1 in RefinishingI-CAR Pro-level 1 Non-structural Repair
Automotive Service Excellence (ASE) credit towards certification
Collision Electrical & Mechanical Systems/
Collision Structural Inspection & Repair
Collision Nonstructural Inspection & Repair
Collision Painting & Refinishing
2 credits — English
2 credits — Math (Algebra 2 and Advanced Math)
2 credits — Science (Chemistry and Environmental Biology)
2 credits — Social Studies (American Government & Elective)
Career Opportunities
Body Repair/Refinish Technician
Collision Shop Manager/Estimator
Lot/Recycled Parts Technician
Insurance Appraiser
Frame/Unibody Repair Technician
Automotive Parts and Paint Sales
Custom painter/airbrush artist
Typical Wages
$10 to $14/hour starting wage
$17,000 to $30,000 as a starting salary
Current average salary for production technicians is $70,000.
Benefits
The most common benefits include Paid Vacations, Health Insurance, Retirement, Life Insurance. Some shops offer Tuition Reimbursement and Profit Sharing.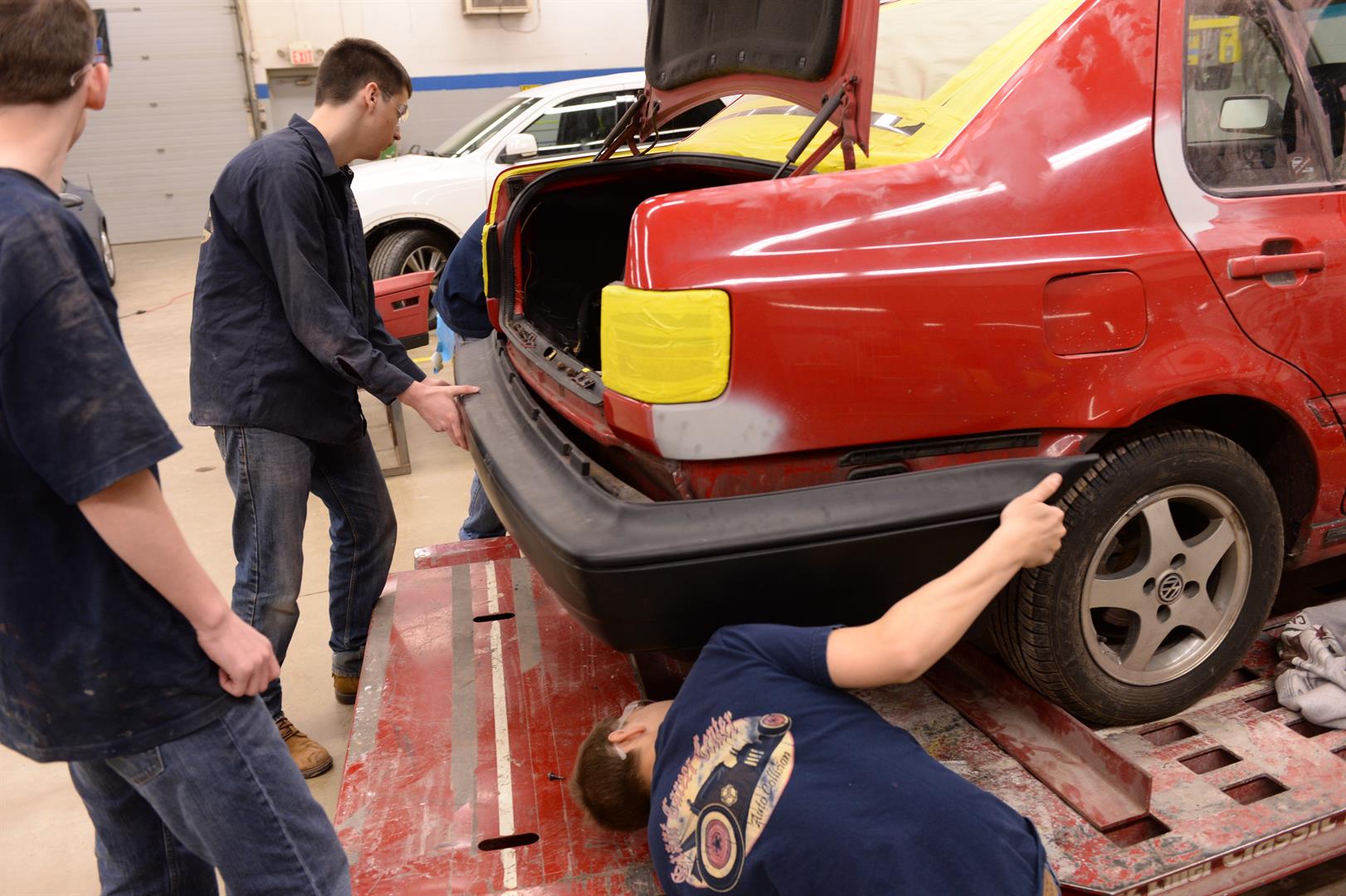 Is This You?
I am self-reliant
I am artistic
I have mechanical aptitude
I am detail oriented
I am a team player
Student Organization

Automotive Youth Educational System
AYES means Opportunity for you!
Earn money while preparing for a variety of well-paying, satisfying careers:
Master Technicians with 3-5 years of experience can earn $30,000 –50,000 + annually
Enjoy the challenge of integrated work/study experiences
Class work relates to the job, and the job relates to the class work
Take advantage of the career and personal guidance provided by school and workplace mentors
Develop the kinds of professional skills that employers want and need
Motivation
Communication
Self-Discipline
Critical Thinking
Problem Solving
Goal Setting
Teamwork
Time Management
Customer Service
Develop technical skills that businesses want and need